Have Questions? Get Answers. | Call 908.868-8382
Do you know what benefits employees really want and why?  WE DO.
The 2016 Employee Benefits Enrollment Study is an in-depth analysis of consumer needs, motives, and trends in the voluntary benefits market. Insights from the study give direction to benefit communications, enrollment strategy and plan design–all supported by quantitative and qualitative responses from 2800+ respondents.
Key findings from the research:
Which benefits employees really want and why
What rational and emotional factors drive decisions to buy or waive benefits
How demographics and life style influences benefits decision-making
Why employers should care about benefits, especially the enrollment experience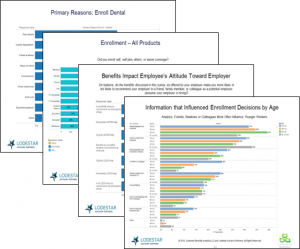 Study Features
Fixed-response and open-ended questions
Appended data from over 100 million households
Factors that influence enrollment decisions
Benefits impact on employee satisfaction, and advocacy
Covers 10 core and voluntary benefit types:

Medical

Dental

Vision

Life

Long-Term Disability

Short-Term Disability

Critical Illness

Accident

Hospital

Wellness
Schedule a Free 15 Minute Briefing About The Research:
For Pricing Information:

Bringing Science to the Art of Benefits Marketing